Dr. Laco and his team are fully committed to every patient that comes into our office for general, cosmetic or restorative dentistry. Our office is conveniently located in Loves Park and offers high-tech equipment allowing for same-day dentistry (such as 1-visit crowns) which is something that is extremely hard to find from other local dentists. Our entire team is dedicated in helping you keep your teeth and gums their healthiest and your entire smile looking its best! In our office, you become a part of our family and every time you come into our office, you'll know what it feels like to receive great personalized dentistry in a comfortable atmosphere and where everyone knows your name and dental history.

If you are in need of a new dentist, no matter what the reason, the dental offices of Edward P. Laco, DDS, PC would love to see you come in for a dental visit. Request an appointment through our website or call our office directly at 815-633-1815 to get set up with an appointment time and date to come in to our office for a dental visit. A brand new way of experiencing dentistry is just a click or call away!
Welcome! We are thrilled that you have you have decided to join our family. Our goal is to hear all of your concerns and treat you according to your individual needs. Your initial visit will take between 30-120 minutes. Your initial visit is very important to us so that we may find out exactly what needs and concerns you may have regarding your dental treatment. It is also an opportunity for you to express your expectations of our office to us.

Your initial visit will involve an informal conversation with Dr. Laco and a thorough review of your health history. This conversation can take anywhere from 5-30 minutes.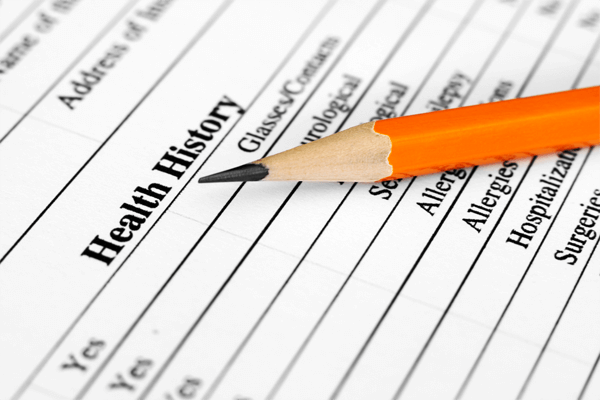 To continue making your dental experience pleasant, we have conveniently provided our dental forms below, so that you can fill them out in the comfort of your home and bring them into the office with you.
The fees for the services we provide for you are based of several factors, such as materials, laboratory fees, and treatment time, but more important than any of these are clinical skill and judgement. Our office will make every effort to inform you of any amount not covered by your insurance carrier prior to starting treatment.

As our courtesy to you, our office manager will file your insurance and help you to maximize your benefits. Please remember that any remaining balance after your insurance has paid or not paid is your responsibility and payment is due the day services are rendered unless other arrangements have been made prior to your visit.

We accept cash, checks, and all major credit cards. For complex cases, we offer several financing options to allow you to receive the dental care that you deserve.
A Beautiful Smile Is Waiting For You
Our offices provide smile makeovers to achieve the beautiful, natural look you seek. We can reshape your natural teeth to make them straighter or more youthful in appeal. Our offices make it convenient to those living in or near Loves Park to receive great cosmetic dentistry!